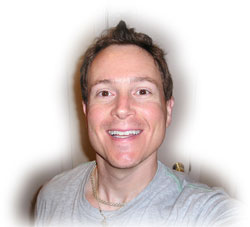 Content Writing Service in Arizona
My name is Rob and I am a content writer. I am American born and American taught. I write in American English, no frills, fluff or BS, just Copyscape passed, quality, genuine, first person content.
The content you receive from us will NOT be spun using software or any other backward way of generating content. It will make sense and not just be words on a page for the sake of getting a back link.
What our service includes is a unique article, post or content written in plain American English of at least 250 words, with 2 contextual links. This content will be published on a website with a domain authority of 20 or more. The regular price for this service is normally $25 but we are currently offering a 20 percent off special. So you will get our content marketing service for $20, which also includes a share on Google Plus to help expedite the indexing process.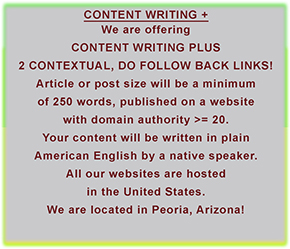 Peace of Mind
This is the part where we provide assurances that we won't run away with your money or you want to be reassured that we can actually write. First off, our reputation is much more important than money. A good reputation will make a lot more money than being sketchy and running away with a few bucks. As a matter of fact – once we complete our transaction we will ask you for a testimonial. Secondly, if we can't write about your topic then We will gladly refund your payment within 3 days of receiving it. We prefer payments be processed through PayPal, but we will be more than happy to use our Authorize Net merchant account if necessary. Rest assured, your satisfaction is our highest priority.
What we need from you!
We will need some insight from you regarding the website, product, service or subject we're writing about. We are NOT a machine and we must have a topic – preferably one general and one specific at the minimum. You are more than welcome to contact us with questions before ordering. Our email address is devilsdue69[at]gmail.com. Please be advised – that is NOT our PayPal email address. We will NOT receive payments you send to that email address. You can make payment via PayPal here.
We do this to help support our families!
We love the internet and the opportunity it offers. If you can write or code or have the money to hire those that can then you can make yourself some additional money or possibly even replace your job. Either way works for me. I personally like to write and I hope one day I will achieve all my dreams with my websites that I have written content for. Now we would love the opportunity to help others achieve their dreams through the power of the written word. Content and credibility mean everything to internet marketing. We look forward to contributing to your online success!